Throop Mill
Throop Mill has lain derelict since 1974. Today it is bricked up and unused. A mill has stood on this location since the 11th century and a reference to Throop mill actually features in William the Conquerers Domesday Book.
Thoop Mill disused since 1974. Notice in the middle of the lawn in fornt of the build is the original turbine from the water mill
Throop Mill is a sizeable building and four storeys high. It is a traditional water mill being fed by a mill stream tapped off the main River Stour. There is a single chamber through which the water flowed. The original turbine is now sat rusting away in the middle of the lawn immediately in front of the mill.
There has been much talk over the years about turning Throop Mill into (variously) a visitors centre, a cafe, a rambling centre or some form of accomodation.
Throop Mill is a grade two listed building. This means basically that the outside appearance must be maintained in its current format but that there would be considerable scope for implementing changes to the interior.
Your family history is important. But displaying it in a coherent and clear manner is difficult.
A Simple Guide to Creating a Family History Book by Marian Rees A Beautifully presented book that makes ideal gift for less than £6.00 A simple low cost guide that breaks through the presentation problems and shows how to produce a treasured and valuable family heirloom without breaking the bank.
Unhappily there does not appear to be any way forward for the restoration of this building at this time. There seems to have developed an impasse between the council and the mill owner for its future use and direction. So Throop Mill (which evidently still contains most of the original water driven milling machinery) lies rotting away.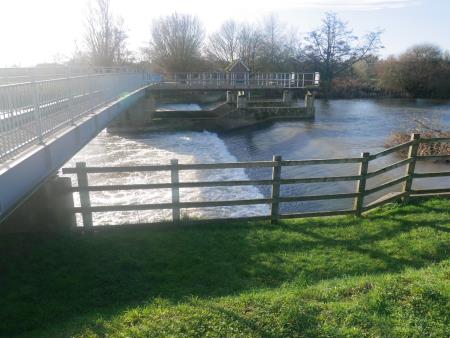 The bridge over the weir on the River Stour about 150 years from Throop Mill
There are rumours of ghosts and stange happenings at the mill. Black coated figures and the laughter and song from long dead children (lost in an accident in the 1800's) are said to greet the unwary (or maybe intoxicated) investigator.
There is a small car park (for approximately 20 cars) about 25 yards down the road from Throop Mill (see google image below). The path down to the river Stour leads directly past the old entrance of Throop Mill and then over the top of a set of water gates controlling the mill pond depth. As you continue the path takes you to to a bridge over the river Stour. Here the bridge is over a concrete gradient which causes a short stretch of noisy fast flowing water for about 30 feet. The other side of the bridge you can turn right and follow the path down stream along the rivers edge, or you can go across the fields towards Hurn airport.

Notice the car park is just to the left of Throop Mill in this Google map
The outflow stream coming out from Throop Mill