Downstream from The Kingfisher Centre, Muscliffe
Walk down towards the river from the Kingfisher Centre. You pass a number of cleverly carved (with a chainsaw) sculptures and at the rivers edge meet a circular plaque with a map of this part of the river on it. Turning right will lead you downstream from the Kingfisher centre.( note the photos below were taken mid winter and do not show the river at its best)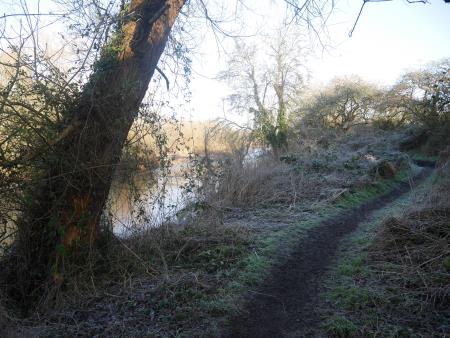 The riverside path downstream from The Kingfisher centre in winter. On this day the mud was no problem - it was frozen!
Going to the right of the riverside plaque takes you downstream towards Throop. You have a choice of two routes the least interesting is to simply follow the country lane which takes you away from the river. You do get glipses from a distance of about 50 yards but the lane could be a country lane anywhere. It is in no way unpleasant but it is not that interesting either. This is Watery lane and it will take you past the sewage works an down into Throop village. It is though an easy and un-muddy walk.
The more interesting route is to go down to the river side path. The only problem here is that this path can be quite wet and muddy, especially after heavy rainfall. The path takes you along the rivers edge and here the river alternates between fast flowing and sendentory phases. It is significantly less busy than the upstream path. The path will lead you for just under a mile mostly along the rivers edge It does widen out about half way along although you are still in close proximity to the river. Finally you come to a junction with Watery Lane.

The Downstream Path from the Kingfisher Centre does widen out in places and theres even some benches by the river
At the junction with Watery Lane you have no option but to continue along Watery Lane either going back to the Kingfisher centre or onwards to Throop. The farmers fields that now line the rivers edge are cleary marked "Keep Out" (along with a "Beware of the bull" sign - although I do not know what bull resides in a corn field!) From here you can continue down made roads to Throop and Throop Mill. At Throop Mill you can rejoin the footpaths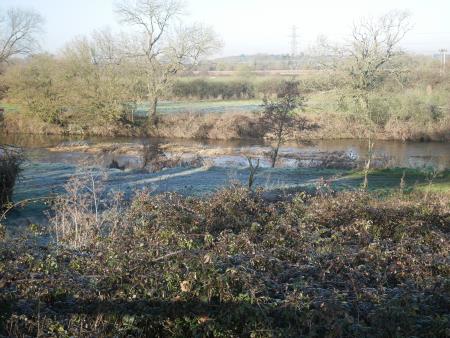 Watery Lane is an easy walk if you do not fancy the riverside path or it is too muddy. From the lane you still get some pretty views across the river.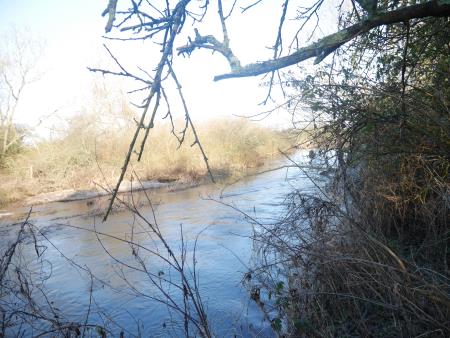 The riverside path is literally right on the rivers edge in places